---
In partnership with:
---
---
London Euston Station is a major transportation hub in the city's heart.
---
It offers several hotels nearby for travellers looking for convenient accommodation.
---
These hotels are perfect for those who need to catch an early morning or late-night train or who want to be close to the station for easy access to other parts of the city.
---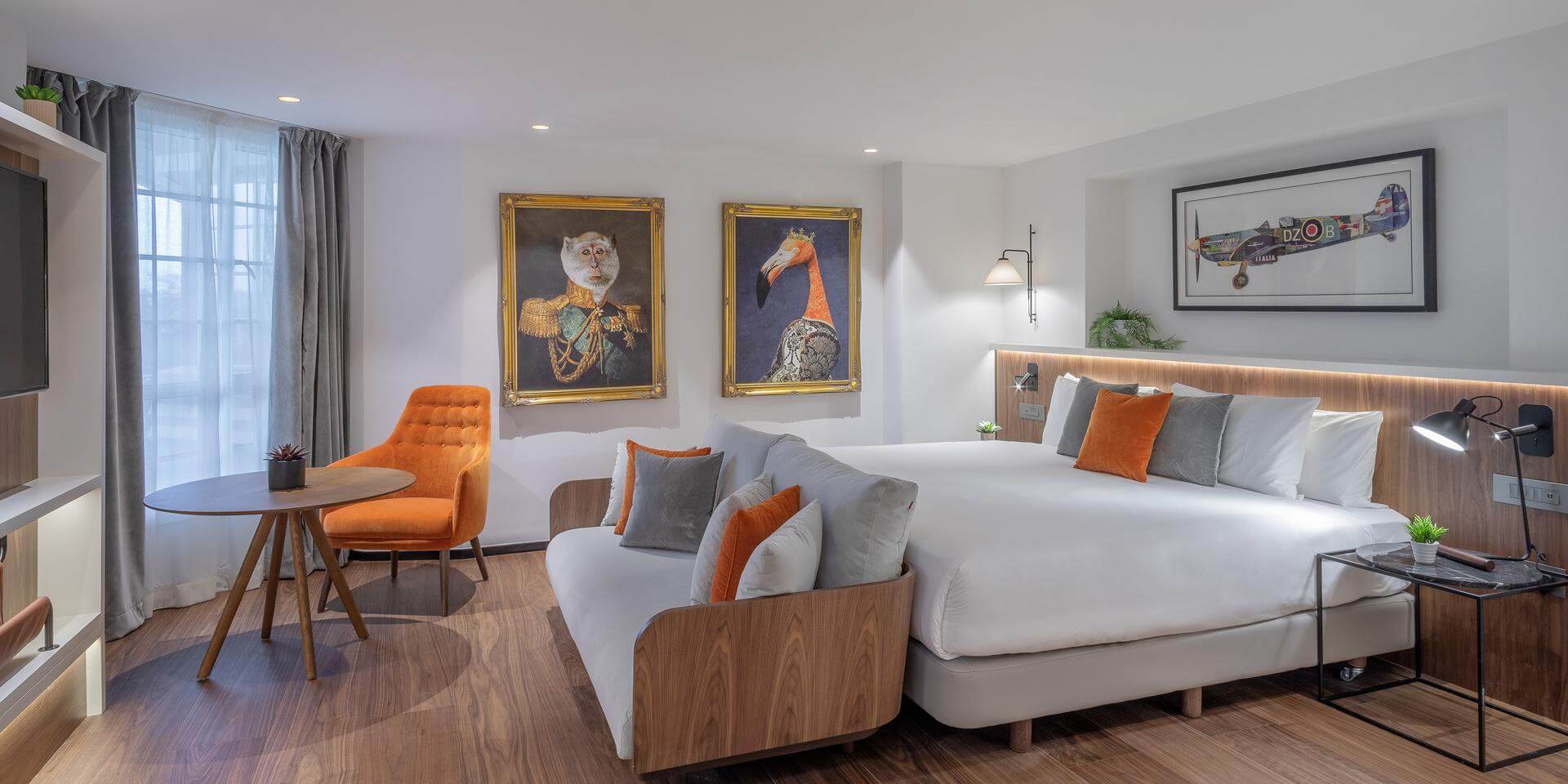 Credit: The Melia White House
---
The hotels near London Euston Station are equipped with all the amenities and services that travellers may need, including comfortable rooms, free WiFi, 24-hour reception, and on-site restaurants and bars.
---
Some hotels also have fitness and business centres, making them suitable for leisure and business travellers.
---
Whether you're looking for a budget-friendly or a luxury stay, a hotel near Euston Station will suit your needs.
---
With their prime location, you can easily explore London's top attractions, shopping and dining options, all within a short distance from the hotel.
---
So, if you're planning a trip to London and looking for a convenient, comfortable and affordable accommodation option, consider staying at one of the Euston Station Hotels.
---
There are several hotels located near London Euston railway station, including:
---
---
These are just a few of the many hotels near London Euston railway station, each with unique features and amenities.
---
It's always best to check reviews and compare prices before making a final decision.
---
Discover the Best Hotels in London

---
The Great Cumberland Place Hotel 

is a 4-star hotel located in the heart of London, near famous landmarks such as Marble Arch, Oxford Street, and Hyde Park.




---

The hotel features elegant guest rooms and suites decorated in a classic style, with modern amenities such as flat-screen TVs and complimentary Wi-Fi.

---

Malmaison London

is a luxurious 4-star hotel located in the heart of London, in the trendy neighborhood of Clerkenwell.


---

The hotel features stylish and contemporary rooms and suites, each decorated with a unique style and equipped with modern amenities such as flat-screen TVs, air conditioning, and complimentary Wi-Fi.

---

Marble Arch Suites is a 4-star hotel located in the heart of London, near the famous Marble Arch and Oxford Street.


---

The hotel features elegant and spacious suites, each decorated with a classic style and equipped with modern amenities such as flat-screen TVs, air conditioning, and complimentary Wi-Fi.

---

Park Grand London Lancaster Gate is a 4-star hotel located in the heart of London, near the famous Hyde Park and the bustling shopping area of Oxford Street.


---

The hotel features well-appointed guest rooms and suites, each decorated in a classic style and equipped with modern amenities such as flat-screen TVs, air conditioning and complimentary Wi-Fi.

---

Park Grand London Paddington

is a 4-star hotel located in the heart of London, near the famous Paddington Station and Hyde Park.


---

The hotel features well-appointed guest rooms and suites, each decorated in a modern style and equipped with amenities such as flat-screen TVs, air conditioning and complimentary Wi-Fi.

---

The Devonshire

is a 4-star hotel located in the heart of London, near the famous Paddington Station and Hyde Park.


---

The hotel features well-appointed guest rooms and suites, each decorated in a classic style and equipped with modern amenities such as flat-screen TVs, air conditioning and complimentary Wi-Fi.

---

Park Grand London Hyde Park

is a 4-star hotel located in the heart of London, near the famous Hyde Park and the bustling shopping area of Oxford Street.


---

The hotel features well-appointed guest rooms and suites, each decorated in a modern style and equipped with modern amenities such as flat-screen TVs, air conditioning and complimentary Wi-Fi.

---

Hyde Park International is a 4-star hotel located in the heart of London, near the famous Hyde Park and the bustling shopping area of Oxford Street.


---

The hotel features well-appointed guest rooms and suites, each decorated in a modern style and equipped with modern amenities such as flat-screen TVs, air conditioning and complimentary Wi-Fi.

---

Park Grand Paddington Court London

is a 4-star hotel located in the heart of London, near the famous Paddington Station and Hyde Park.


---

The hotel features well-appointed guest rooms and suites, each decorated in a modern style and equipped with modern amenities such as flat-screen TVs, air conditioning and complimentary Wi-Fi.

---

The Royal Horseguards Hotel is a 5-star luxury hotel located in the heart of London, next to the River Thames and near Whitehall and Trafalgar Square.


---

The hotel features elegant guest rooms and suites decorated in a classic style and equipped with modern amenities such as flat-screen TVs, air conditioning and complimentary Wi-Fi.

---

The Tower Hotel is a 4-star hotel located in the heart of London, next to the iconic Tower of London and Tower Bridge.


---

The hotel features comfortable guest rooms and suites that are decorated in a contemporary style and equipped with modern amenities such as flat-screen TVs, air conditioning and complimentary Wi-Fi.

---

Park Grand London Kensington

is a 4-star hotel located in the heart of London, near the famous Kensington Gardens and the bustling shopping area of High Street Kensington.


---

The hotel features well-appointed guest rooms and suites, each decorated in a modern style and equipped with modern amenities such as flat-screen TVs, air conditioning and complimentary Wi-Fi.

---

Park Grand London Heathrow

is a 4-star hotel located near Heathrow Airport, London's main airport.


---